What do you get when thirteen female business owners come together to create a collaborative photoshoot?

The answer is, MAGIC!
For the weeks leading up to the megalith photoshoot, the 'famous-13' meticulously planned an intricate Balinese themed photoshoot, and pulled off a 'Vogue-worthy' result.
THE PHOTOSHOOT
Picture this, it's early morning someday in March, the sun is yet to rise and the birds are yet to tweet. Female founders (strangers) begin to arrive at the private home of Anna Layard; Founder of Layard Interiors. It's the day of the photoshoot.
The Setting: A gorgeous 'Balinese' garden setting
The Timing: Sunrise
The Motivation: The sisterhood 'pull-factor' and yummy food platters helped too ;)
The Players: Thirteen female entrepreneurs with seven different nationalities. Each collaborator brought her 'zone of genius' to the project, including photography, hair & makeup, clothing, jewellery, styling, food, swimwear, interiors, henna art and copywriting skills.
The Outcome: A visual display of incredible female-owned brands. Each showcasing their wares and bringing their magic. This project is testament to what can be achieved through collaborative 'sisterhood jams'.
Here's how they did it.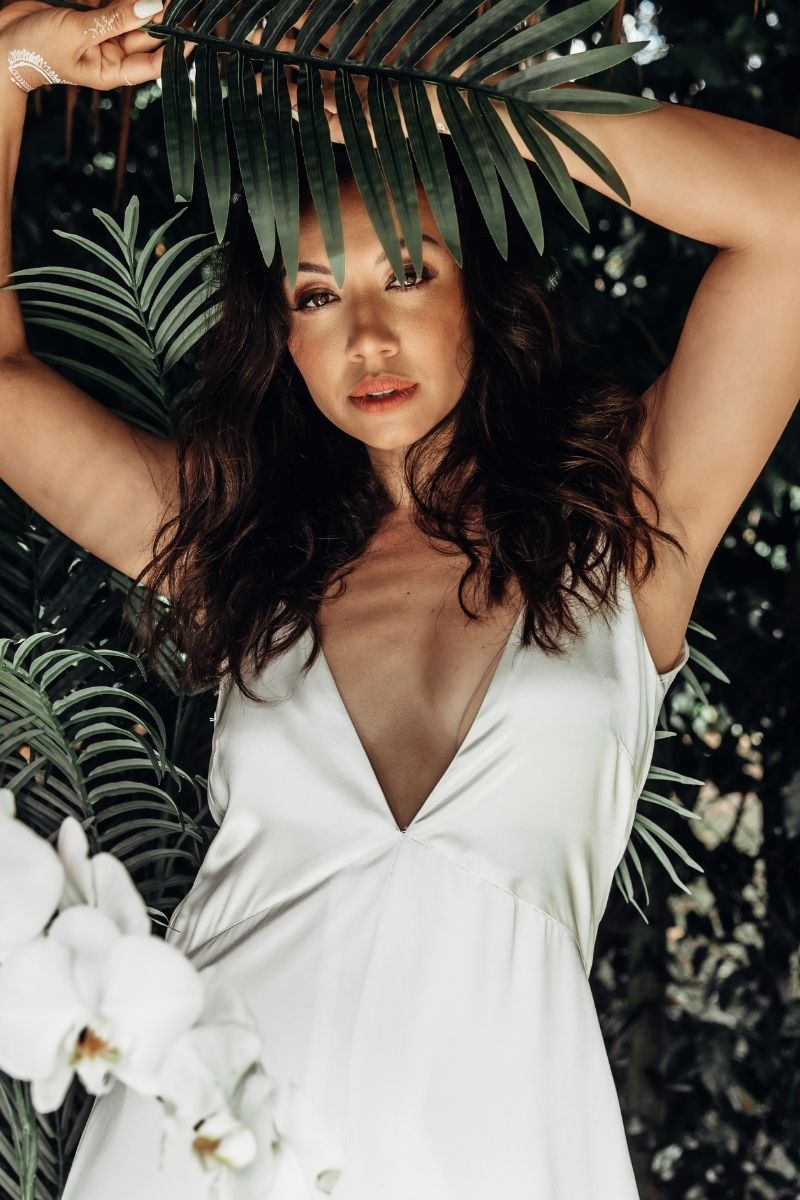 THE VISION
Each collaborator had her own 'offering', be it her products, services, camera, location, body or pen. The idea was to create a photoshoot, to support one another's brands during the difficult pandemic climate.
The essence of the collaboration was to give and receive support. This meant sharing encouragement and resources collectively. The result was the collation of gorgeous images that captured everyone's contribution to help raise brand awareness for all involved.
Needless to say, to pull off such a result independently, would have cost each founder heaps of time, money and resources. So to join forces, was to share resources in abundance. Smart work makes light work.
SOCIAL COLLABORATION
This form of social collaboration is on the rise with entrepreneurs. It's a tough gig operating as a sole-ranger trying to sell, build audiences, engagements and awareness with only 'me, myself and I' at the helm.
CHALLENGES
Pulling off this photoshoot during Covid restrictions, whilst tuning into fourteen voices had its own challenges. Navigating schedules, time-clashes, logistical arrangements, comings and goings and last-min changes and challenges, kept the girl-gang busy.
But with fourteen founders sharing ideas and solutions, the project was kept on track.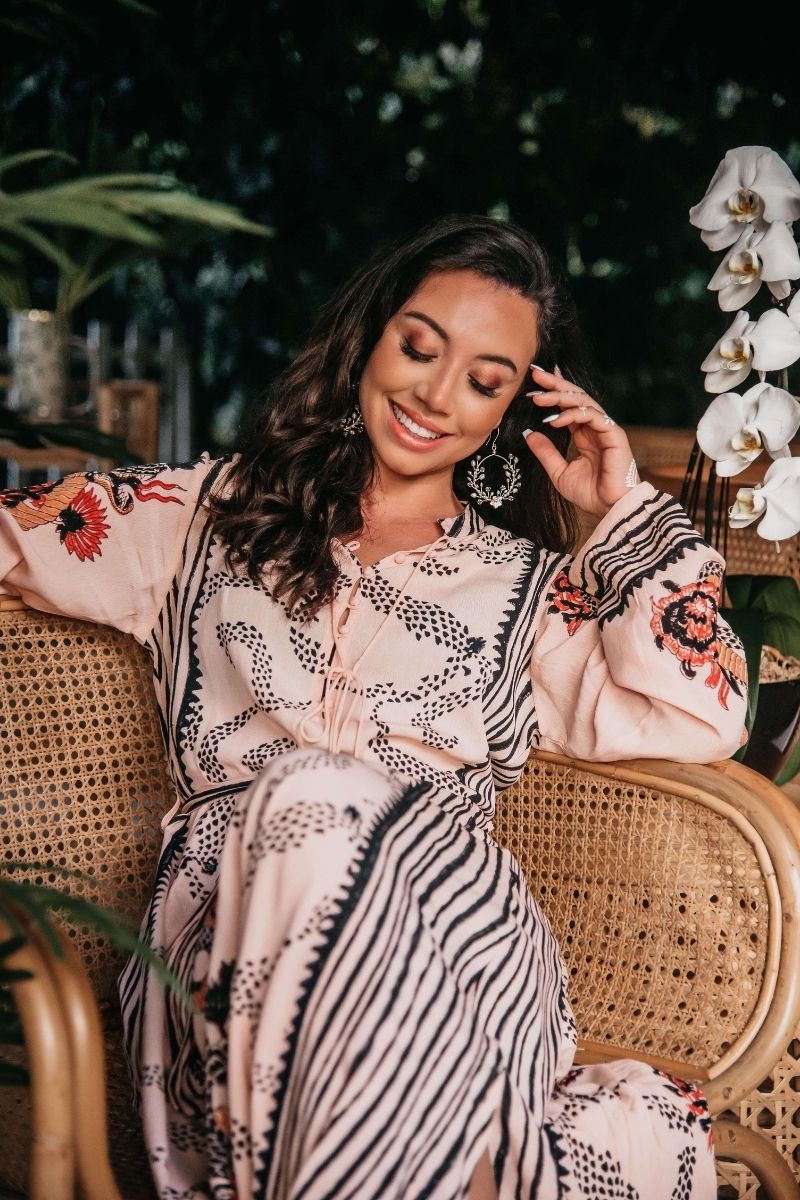 LIFT AS YOU RISE
When talking to the founders about their motivation behind volunteering time and resources (without any guarantee of rewards), there seemed to be a common thread of thought; Collective success was more important. Meaning, one for all and all for one!
Here's what some of my fellow collaborators had to say:
What did the collaboration mean for you?
Lilia- I believe that collaborations are great opportunities to learn from each other, to build new relationships, and make friends. It's amazing to feel supported and support. To feel appreciated and appreciate.
Julie- This was such a great collaboration. It showcases how much women can support one another. Despite coming from different backgrounds, interests and even being strangers to one another, yet we're able to produce such an amazing output.
Gayathri- This collaboration was the coming together of many local businesses lead by women, who all needed a common reason to feel good about their brands.
Elizabeth- It meant meeting a fabulous group of talented women in business.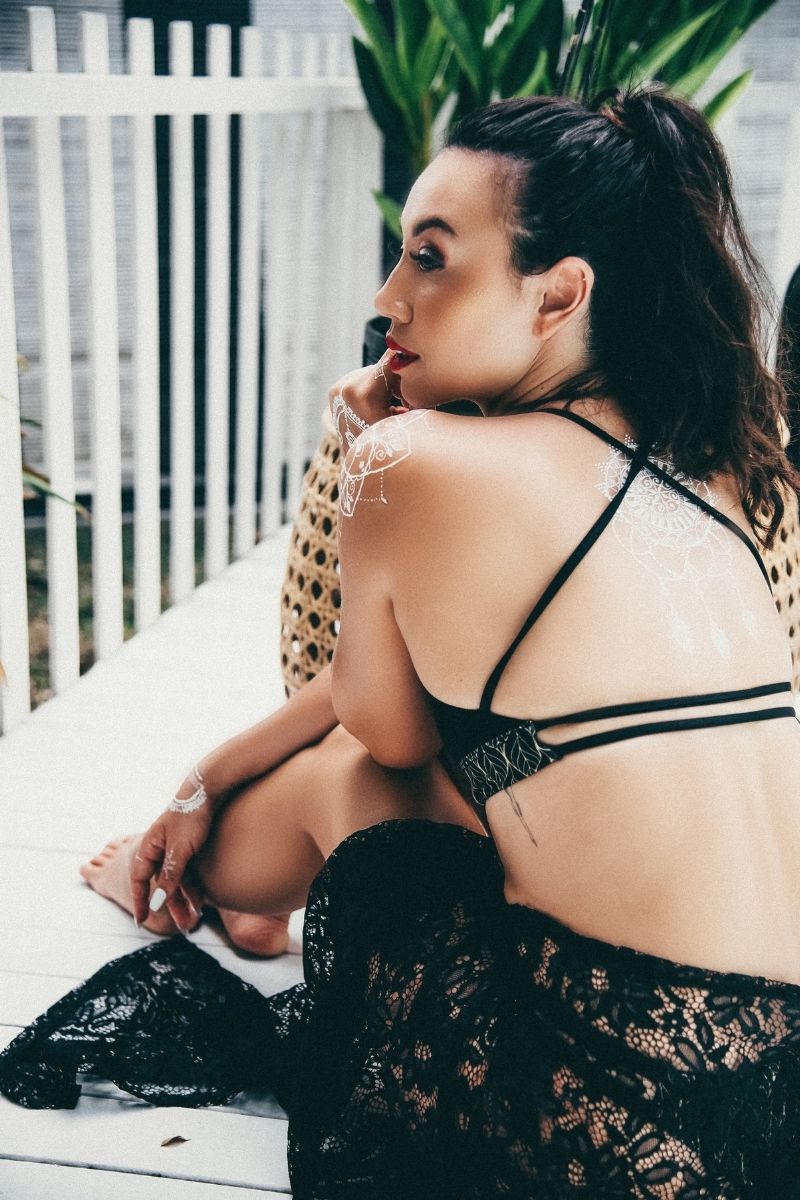 BACKSTAGE SNEAK-PEAK
There was careful orchestration of the run-sheet of events before, during and after the photoshoot. Photographer, Lilia from Shades of Feminity, gave a wonderful first-hand account of how the day of the photoshoot went:
Lilia- 4 am I woke up and had my first coffee. I listened to chill-out music with a Balinese vibe to get into the mood. 5:30am I arrived at Anna's, and felt like I was breaking into somebody's house in the middle of the night whilst carrying hike palm leaves I had collected a day before. I opened the door quietly and Gayathri and Chantal were already there, getting make-up and hair done.
Our host Anna was up preparing coffee (delicious btw). I started to look around the scene, and after three cups of coffee in a row, I started to get a bit overexcited.
Then we waited for that magical moment- for the sunrise.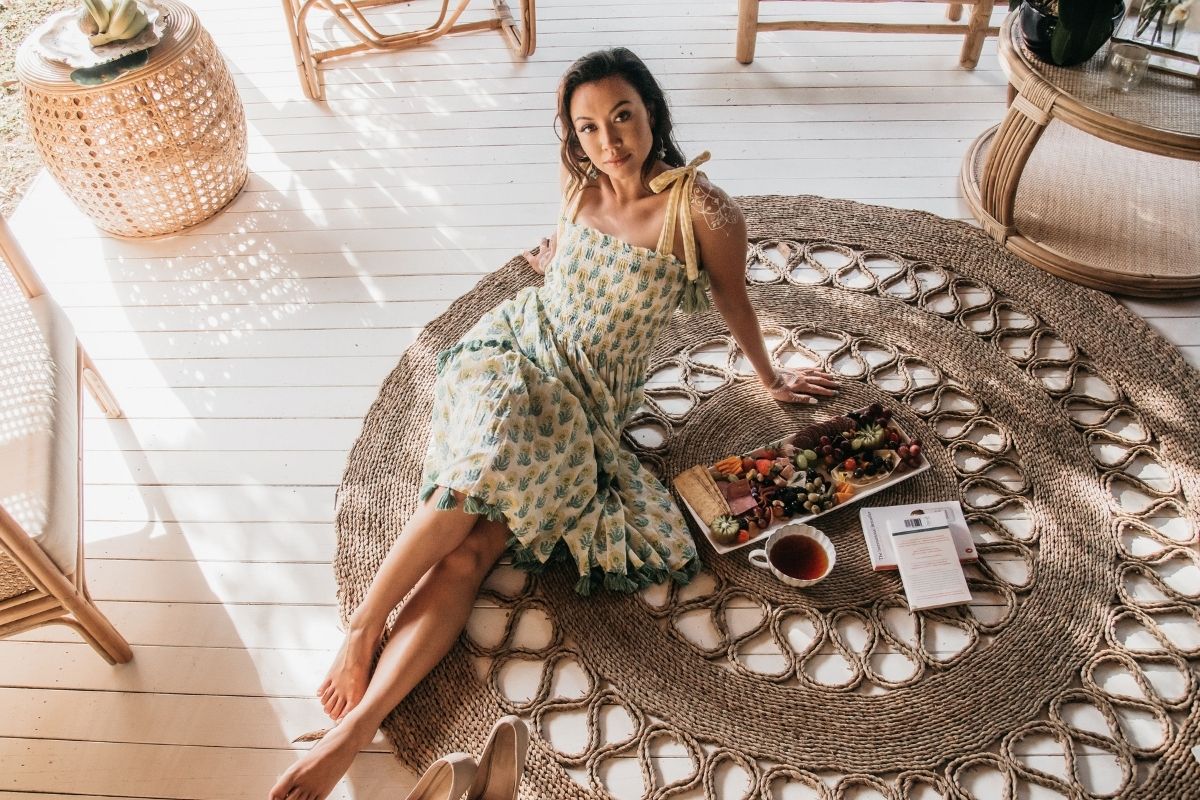 A few other ladies began arriving. Elizabeth came with her gorgeous wedding gown, Vrinda our stylist arrived, and Parul came with her dresses. Sadly not all of us could be there at the same time, but the ladies took lots of behind the scenes footage which we shared in our group.
Sunrise hit the first shooting location- the rattan gazebo- and we started!
Then I only remember shutter clicks, and chasing the light. Chantal our model was simply amazing- a natural goddess. She nailed every single look, her posing flow was a dream. Elizabeth's encouragement kept Chantal at peak performance.Other ladies were extremely helpful and patient with my "I need a stool here please! Can someone cover the plugs with flowers?" etc. Just a dream team.
Gayathri is a master of make-up. She made sure Chantal was looking beautiful throughout the shoot (and with what class!). That lady just knows her stuff! It's every photographer's dream to work with a hair and makeup stylist like her.
Vrinda had a hard task; so many outfits and jewellery to choose from and put together. She did an amazing job.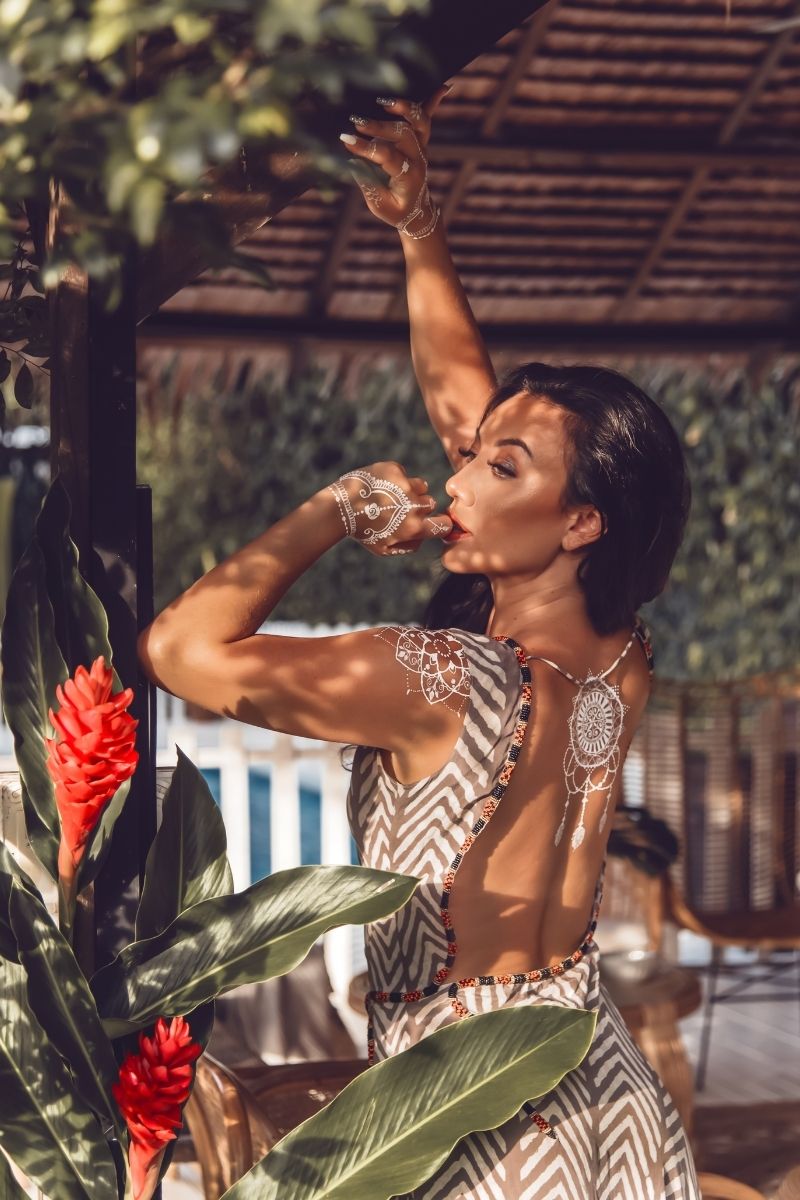 Anna kindly offered her magical interior pieces and that 'OMG- fantastic location'. We could truly move to Bali, listening to her interesting stories about some of the treasures from her kingdom- like the petrified wood tray! Beautiful piece btw.
In the middle of the shoot, we were blessed with the food box from Julie. We took some nice relaxing shots and had a snack later. Every party must have one of these platters!
Finally we got to the swimwear shots- it was our model Chantal's Mrs Deco brand. She not only has a beautiful face (and body) but is also an energetic entrepreneur who made her passion for water sports her business. What a role model.
Then the shoot was over - it was a lot of work but it was all worth it! We had a great time together!
HOSTESS WITH THE MOSTESS
The beautiful home-based location and interior furniture was provided by host Anna Layard; Founder of Layard Interiors. She had this to share:
Anna- We started at 5am and there was great camaraderie from the get go. Everyone had their sweet spot and area of expertise and worked so well alongside each other in-spite of never having met before.
Lilia had great vision of the looks she wanted to achieve and the brands were beautifully curated alongside each other. It was a long shoot not finishing until nearly 12 and Lilia and Chantal's energy never wavered. Super fun and relaxed shoot
LEARNING
With zero-ego and pure heart forming the foundation of what needed to be done, all the women in the project came forward with an open mind to support and learn from one another.
Here's what they shared about their learnings: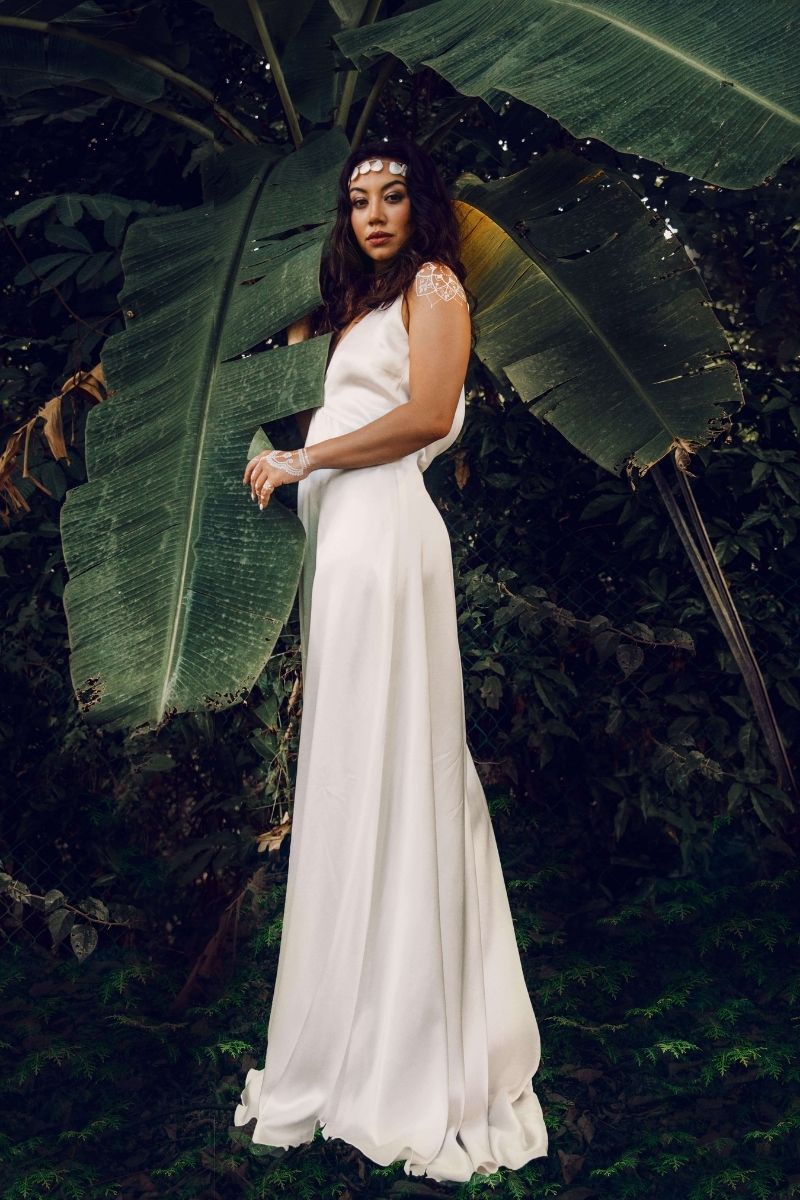 What did you learn from the collaboration?
Gayathri- Collaborate over competing, it's the new way of doing business.
Vrinda- You learn, you grow and inspire.
Lilia- Impossible is nothing when women support women!
Mehwish - When women support each other, incredible things happen.
Julie- The power of collaboration lies in the way the team communicates and gives trust in each other's capabilities.
Hina- That like-minded people coming together can do wonders!
Anna- Teamwork makes the dream work!
Mugdha- Too many cooks does not always spoil the broth.
Anupama- We can do things for others without it being a big thing, yet it creates impact.
Chantal – Learning from creative individuals first-hand and understanding everyone's inspiration behind their branding.
Elizabeth- By giving you also are receiving.
Dee- Collaboration really is the way forward. So impactful.
THE RESULT
Of course the photos are testament to a job well done. But if you ponder each photo a little deeper, you can appreciate the blood, sweat, tears that each female founder has poured into the making of her brand.
The hours, sleepless nights, anxiety and juggle struggle that goes on behind the scenes for a brand to make it to market and be a success, is no simple feat.
Each photo tells a deeper tale of each female founder's individual achievement. Each photo is a collective celebration of what she brings to the world.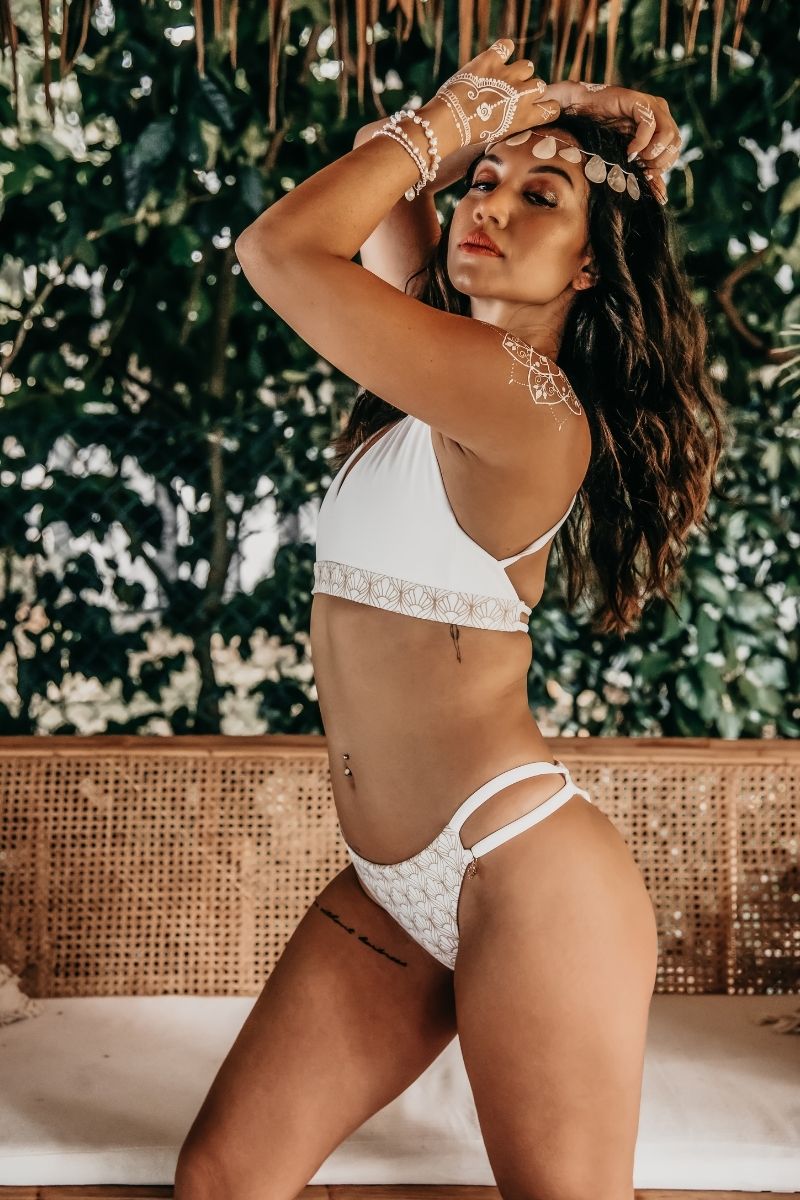 SISTERHOOD COLLABORATIONS
A collaboration at its core is about creating something bigger than individual interests. This isn't always a breeze to achieve because it requires an alchemy between trust, chemistry and shared values.
In this collaboration there was almost a 'silent' code of honour requiring each founder to bring integrity, selflessness, humility, and gratitude to the party.
These were the key ingredients to how we made the collaboration a success:
Integrity
Our actions had to be congruent with our words. If we had committed, then we had to follow-through. This is how we built trust, despite being strangers.
Selfless
Selflessness meant watching out for our fellow Queen's crowns as well as our own. There wasn't any room for 'me, me me, I, I ,I'. It was all about 'we and us' from start to end.
Humility
We were in service of one another and to the higher good of the project, without expecting a reward. It meant giving a sh*t about our fellow sisters over and beyond individual success. This was the magic.
Gratitude
We were grateful for one another's contribution, and didn't measure it in terms of 'size or value', but instead noticed the 'heart behind the effort'. In gratitude we celebrated one another long after the final photo was clicked.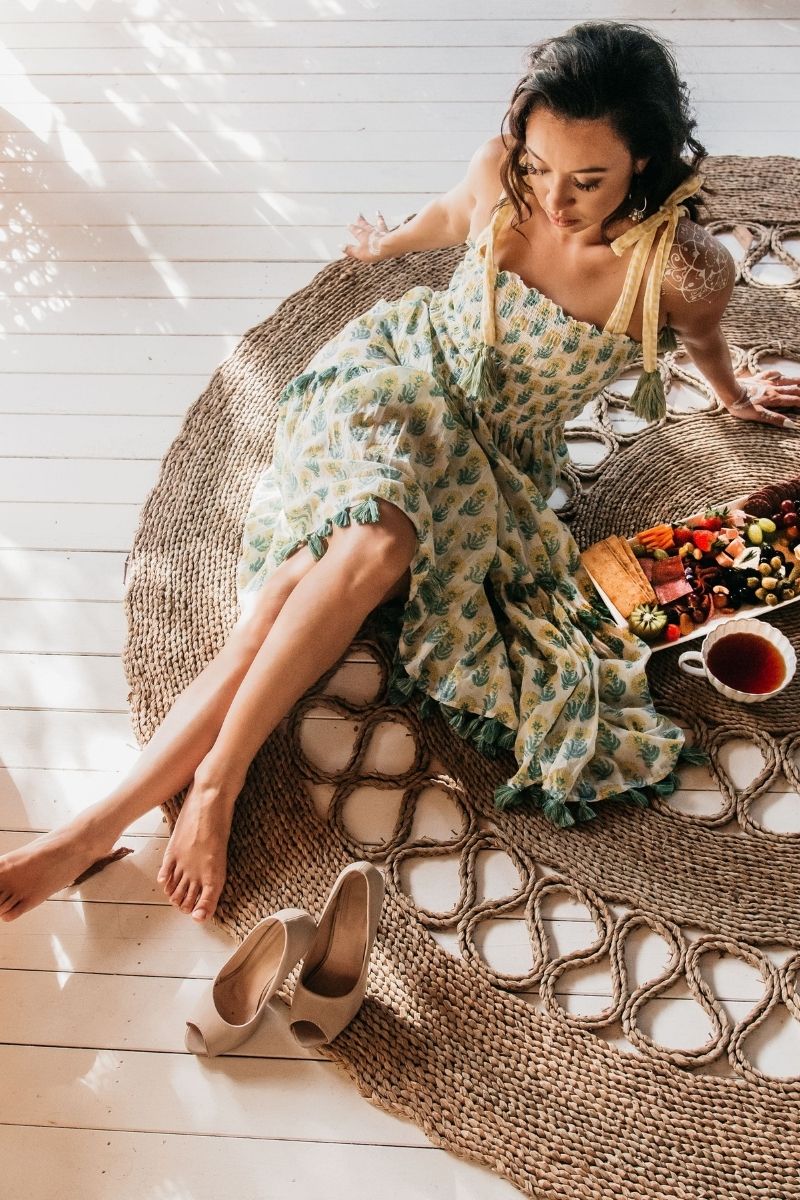 MAGIC
With a diverse range of products and services on display, the magic show began as one founder used the products/services of another founder to enhance the photoshoot result.
For example, make-up maestro Gayathri sampled Mugdha's lipstick combos from her Go Play Cosmetics device. Model Chantal donned outfits from Anna Rain, Mo Maya, and Elizabeth Grace Couture. Stylist Vrinda selected the right amount of dazzle from the hena&hana jewellery collection, whilst being careful not to smudge the white henna painted by Mehwish etc.
Meanwhile Julie from Joyeaux Cravings served her platters to keep bellies full, whilst host Anna shared stories about her Layard Interior pieces and kept coffee cups full.
And I got to tell the tale by way of writing up this feature. Alchemy at its best.
OUR WIN
We set out to mix fashion, food and interiors and ended up with bellies and hearts full. We've seen new friendships birthed and a sense of achievement that anything is possible when women join hands.
I'll leave you with words from my fellow collaborators on how they are using their brands to create impact in the world. Enjoy.
Complete the sentence, My brand helps women….
Elizabeth - Repurpose their wedding gown as wearable luxury
Chantal - Feel more comfortable in their workout and swimwear gear while saving the planet!
Dee – Find a seat AND a voice at the table.
Anupama - Feel good, love their curves and step out with confidence.
Mugdha - Discover new flattering makeup looks in a sustainable way.
Vrinda - Look and feel confident by getting out there and doing something different.
Anna - Have a strong ethical and social conscience. We choose products which specifically empower women and their communities.
Hina - Get empowered and confident from within.
Gayathri - Look their best on the outside, and bring happiness and confidence on the inside.
Julie - Feel joyful in and out.
Mehwish - Feel beautiful and unique.
Lilia- Feel empowered, beautiful and confident and have that moment of feminine greatness captured.
And this is what's possible when women join hands. To sisterhood!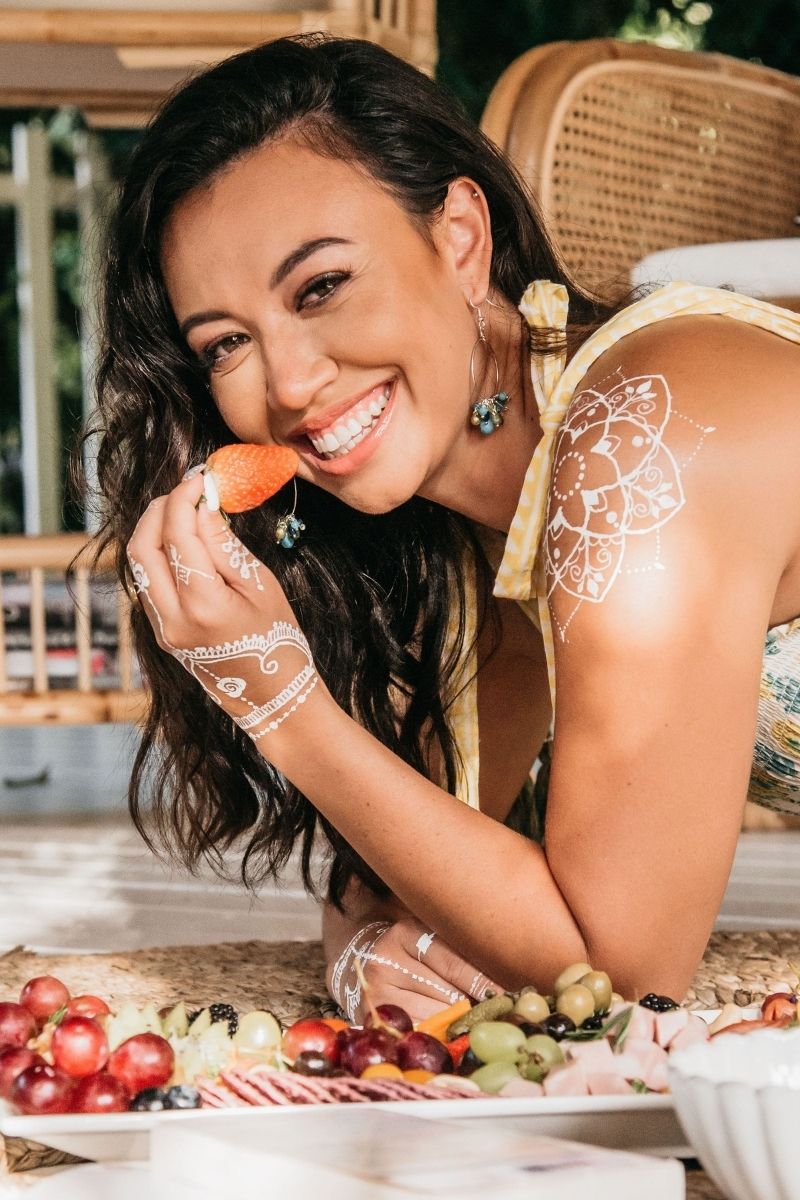 MORE ABOUT OUR PLAYERS
Photographer Lilia was one of the brainchilds behind the collaboration idea. She brought her vision, ideas and lens to the project. With her eye for precision and gorgeous feminine energy she is credited with capturing the key moments.
Mehwish Lakdawala; Henna artist and co-brainchild behind this project, was called to action to visualise and hand-draw white henna designs on model Chantal, to compliment the dresses and jewellery.
Collaborations are hungry work, and thanks to Julie from Joyeux Cravings SG, delicious platters were part of the shoot (and made it into hungry bellies thereafter).
Powerhouse Makeup and Styling 'she-ro' Gayathri Menon, brought all her flair and finesse to the project. She created a gorgeous simple dewy look to compliment the rest of the styling and theme.
With incredible dresses and gowns to work with, jewellery designer Hina Harris from hina&hana provided complementary jewellery that added the finest of dazzle and detail.
Thank goodness for furniture queen Anna Layard from Layard Interiors. The shoot took place at her beautiful home, where her interior and furniture props helped create the 'Bo-Ho chic in Bali' type vibe. Who needs to fly to Bali, when we have Anna's garden right here in Singapore.
What should the model wear? What jewellery and props should make the cut? Vrinda L Seth from VL Stylist did the heavy-lifting where wardrobe styling was concerned. Every detail and careful placement had Vrinda's attentive eyes and feminine touch all over it.
At the heart of the project was doing things in a socially conscious way. Mugdha from GoPlay Cosmetics lent us her sustainable lipsticks, which helped create a variety of shades without the waste and toxic nastiness.
Anupama Singal from clothing label Anna Rainn lent select clothing for the shoot. Her clothing range is designed to help women feel good, love their curves and step out with confidence to conquer. We think our model Chantal certainly did step up and conquer!
Parul from Mo Maya brought her conscious dress collections to the shoot, to give us that chic bo-ho look with her gorgeous dresses, all made in 100% natural fabrics with 100% natural dyes. Her collections support village artisans in India. So featuring her dresses made this project all the more enriching.
Our swimwear came from the Mrs Deco range and Founder Chantal offered to be our model for the whole shoot too. Chantal brought her warm, authentic, real and raw self to the project. She balanced enough sizzle and sparkle whilst celebrating feminism and curves in a blend of 'realness'.
Chantal upped the glam stakes when she donned a gorgeous wedding gown generously supplied by Elizabeth Grace from Elizabeth Grace Couture. The simple yet sexy V-neck wedding dress worked beautifully with Mehwish's white henna and Chantal's simple hair and make-up look, created by Gayathri.
Perhaps I can be biased and say the best job was reserved for myself, to find the words to pen this article and do justice to the brands, vibe and sisterhood we created with this project.
On behalf of The Butterfly Letters, It's been my honour to lend my pen to write about our magical collaboration.
FOLLOW OUR COLLABORATORS
Copywriting by Dee from The Butterfly Letters
Instagram: @thebutterflyletters
Facebook- TheButterflyLetters
Photography by Lilia from Shades of Femininity
Instagram: @Shades of feminity
Facebook : shades of feminity
Henna Art by Mehwish Lakdawala
Mehwish Lakdawala-Henna Art
@mehwish.lakdawala
Cheese Platters by Julie from Joyeux Cravings SG
Instagram: @joyeuxcravingssg
Makeup and Styling by Gayathri Menon
Instagram: @hina_and_hana
Furniture and shoot location by Layard Interiors
Instagram: @Layard_Interiors
Facebook: Layard Interiors
Wardrobe Styling by Vrinda from VL Stylist
@vl_stylist
Makeup products by Mugdha from GoPlay Cosmetics
Instagram: @goplaycosmetics
Facebook: goplaycosmetics
Clothing by Anna Rainn (Black Lace wrap)
Instagram: @anna.rainn
Facebook: AnnaRainn
Clothing by Parul at Mo Maya (Bo-ho dresses)
Instagram: @itsmomaya
Model -Chantal
Instagram: @chantalwindley
Instagram: @mrsdeco
Wedding gown by Elizabeth Grace Couture